A chance meeting in the depths of the Pureora forest between a Dutch traveller and a Fijian brewer could make a decent a-man-walked-into-a-bar joke. Instead, the meeting led to a business exporting a uniquely New Zealand beer. Lauren Bartlett reports
When you have Heineken nipping at your heels, after just two years in business, you know you've bumped into the right backpacker. Or have the right brew. Or, in the case of TaaKawa beer, a unique beverage and a backstory that rivals Stella Artois' sepia-toned advertisements.
This story has the backing of a local marae, bush, spirituality, indigenous flora and two down-to-earth Kiwi blokes from Rewa, Manawatu, keen to take Aotearoa to the world.
One half of the business is Rewa local Simon Burney. The seed was sown after Burney saw a television interview with an entrepreneur growing Maori apples "to sell to some bros in Hawaii".
"I thought, Now that's a really good marketing approach," says Burney, "but it's a shame that Maori don't really like apples!" Beer, he decided, was a safer bet. "I decided that to do an indigenous thing I'd need a bit of Maori input. So I went to the Poupatate Marae down the river here, where my friend [Bruce Smith of Ngati Raukawa] was. When I walked into their marae, there was this beautiful smell. And before I told him the idea, he said 'Have a drink of this,' which was kawakawa tea."
Kawakawa, Macropiper excelsum, is a close relative of the kava plant—the active ingredient in the famed Fijian beverage kava—and used by Maori to treat toothache, infections, gonorrhoea, grief and other complaints.
For the part-Fijian Burney, it tasted like destiny. "I recognised the analgesic taste on my lips, and I thought this is it—this is the connection between us. I realised kawakawa was what we were going to make beer from, before I'd even put the idea to him."
Burney and Smith put their heads together and formed the Waituna Brewing Company—and then they learned to brew beer. They built their own fermenting tank from stainless steel kegs and experimented, replacing the hops with kawakawa.
They narrowed their brew down to several final batches which they trialled in an impromptu market research session with willing participants in the kitchen of the Poupatate Marae. The result was TaaKawa, a light fruity beer. Burney claims TaaKawa is hangover-proof and "may or may not" contain the healing properties of kawakawa.
I recognised the analgesic taste on my lips, and I thought this is it—this is the connection between us. Kawakawa was what we were going to make beer from
But Waituna still needed to distinguish TaaKawa from the dozens of other boutique Kiwi brews on the market. They got a business adviser on board and a government grant to pass food and safety standards, and received advice and grants from the Poutama Maori Business Trust. The packaging had to tell the story: Maniapoto artist Len Hetet created an elegant logo with kawakawa leaves, and Smith himself designed the smaller label for the neck of the bottle, with a spiral design inspired by the patterns in the water where the Waituna stream meets the Rangitikei River. "The two triangles signify the north and south islands, and the intertwined tuna [eels] represent the two cultures of Aotearoa and how we've got to get along," says Burney.
Before the first batch was even in its bottles, Burney and Smith approached a buyer at Foodstuffs, who agreed to take it on in New World supermarkets before even tasting it. Clearly the brand story had potential.
"We discussed the product that we were going to make and the price it would have to sell at," says Burney. "It's lucky it paid off, because New World has been a lifeline for us."
The New World connection carried the two entrepreneurs as they struggled to build their business. Still small and learning the ropes, they were often edged out by larger brewing companies in bars and also had to factor in excise tax.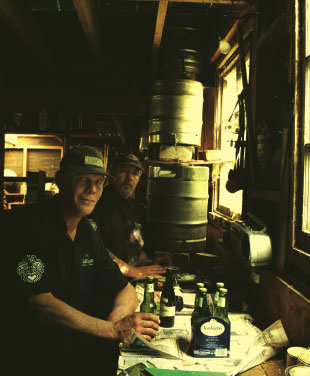 "In other countries like Great Britain and Australia you can produce up to 100,000 litres and you don't have to pay any tax, which gets their brewing industries going," says Burney. "We have nothing like that in New Zealand, so it's a pretty hard road to hoe. But we finally got overseas, which is what our beer was designed to do, anyway."
Which brings us back to the Pureora Forest.
While on a 'spiritual retreat' in the forest near Taupo, Burney was having a conversation with Dutch traveller Gerrit van Leeuwen about his unique beer. Van Leeuwen, it turned out, was well-connected in the Dutch brewing industry and offered to introduce TaaKawa to his contacts.
"I didn't actually give him any beer, so he must have gone somewhere and bought it," says Burney. "Next thing, he wanted us to come up to Auckland. We met this guy off the plane—his friend from the Netherlands, who he had sent the beer to. This guy had had contacts in the supermarket industry and with Heineken, and they had put it through their commerciality test." Burney isn't sure whether he should be telling but, as the story goes, TaaKawa had rated the highest in ten years on Heineken's test, which takes into account brand story, labelling, taste and texture. "We immediately got all this interest in it, and we got an investment offer."
The deal was a new company, to be set up in Holland under the name TaaKawa International, jointly owned by Waituna Brewing Company and Dutch partners Hans Ijzereef and Herman Mentink. The Dutch invested €650,000 (NZ$1.35 million) to market TaaKawa internationally.
TaaKawa promptly sent 6,000 cases to the Netherlands, only to run into trouble with local bureaucrats. "They said kawakawa might not be a safe herb, which is a bit weird coming from the Dutch," says Burney
What's the appeal? Ijzereef says the culture of beer is changing: a new generation of beer drinkers is emerging as brand-loyal drinkers get older and their drinking declines. This new trend for boutique beers is rising as younger drinkers are not inclined to consume the same brands as their parents—thus it's goodbye to Heineken and Stella, welcome TaaKawa.
"These new trendy brands need to distinguish themselves in taste—lighter, sweeter—and are extra appreciated if they have an extraordinary story," he says. "TaaKawa is ideally positioned. Its connection to an indigenous heritage and its unique ingredient, combined with its taste, has proved to be an absolute winner with young people in Europe and the US."
TaaKawa International set about doing a deal with Dutch supermarket chain Albert Heijn, and TaaKawa promptly sent four containers—6,000 cases—to the Netherlands, only to run into trouble with local bureaucrats. "They said kawakawa might not be a safe herb, which is a bit weird coming from the Dutch," says Burney.
The naturally-occurring compound myristicin was the problem. Although myristicin is also found in nutmeg and parsley, TaaKawa would be categorised in the novel foods category. To be re-classified as a beer, TaaKawa will have to be 'rigorously assessed' or sold elsewhere in the EU.
To achieve that, TaaKawa International approached the biggest target of all: Tesco. With a whole reality show dedicated to amateurs pitching to the British supermarket chain—Breaking Into Tesco—getting the giant retailer's attention is no mean feat.
But once again, the TaaKawa brand story did the trick. "Tesco loved the idea, but they wanted it for September, and we didn't have the quantity," says Burney.
Instead, TaaKawa upped production at Auckland's Steam Brewing Company to brew enough containers for a November launch in 180 Tesco supermarkets. Although the initial order is relatively modest—just 1,200 cases—it will give TaaKawa leverage with Albert Heijn and other European supermarkets. "The Tesco deal is not too much profit, but it will do heaps to build the brand. The real profit for us lies in the European market. But from a brand-building perspective, Tesco is critical," says Burney.
When Burney and Smith set up a stall at Wellington's Beervana, Black Seed Andy Christiansen gave them a hand. "They're wholesome company," says Christiansen. "They're just trying to sell a quality New Zealand product overseas. It's a good match. It's not Coke, y'know?"
While Ijzereef and Mentink work on the brand from the Northern Hemisphere, Burney and Smith work on raising the profile here in New Zealand.
"We were going to sponsor sport, but that was already taken by all the big breweries, so we decided to get into the arts instead," says Burney. TaaKawa set about promoting their brew at Maori film festivals, Maori Language Week and Matariki events. "Then we got into contact with a few Maori musicians, and we sponsored record releases and stuff like that."
Through a record release they met Kiwi dub group The Black Seeds. A partnership quickly developed. "The way we see it, they're in Europe trying to break in with an indigenous New Zealand sound—so we're basically in the same business, aren't we?" says Burney.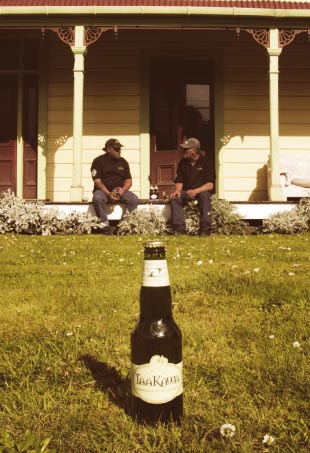 The arrangement is mutually beneficial; the group receives beverages for its shows, and TaaKawa International organised transport and accommodation on the Dutch leg of the tour through its Netherlands contacts. In return, The Black Seeds promote TaaKawa during shows. Fortuitously, The Black Seeds will play in London's Astoria Ballroom the same week that TaaKawa launches in Tesco.
At a more grassroots level, when Burney and Smith set up a stall at Wellington's Beervana, Black Seed Andy Christiansen gave them a hand to sell it. "They're a wholesome company," says Christiansen, who proudly wears a TaaKawa t-shirt during gigs. "They're just trying to sell a good quality New Zealand product overseas. It's a good match. It's not Coke, y'know?"
So what next? Ijzereef says over the next 15 years they will introduce TaaKawa globally, striving for a worldwide market share as big as Corona's.
The next step is California, but there's still more financing to be done. "You can't just put the beer in on the shelves, you've got to have a marketing plan to back it up," says Burney.
But they'll be leaving the spadework to Ijzereef and Mentink.
"My partner and I are basically just country boys," says Burney. "We realise our limitations, and hopping on a plane and flying to different countries is not something I feel comfortable doing. The job that I want is picking the kawakawa in the bush."
Which just adds to the TaaKawa story.