Wellington Airport's planned terminal building has its critics. Here's why we love it (and what's wrong with other airports)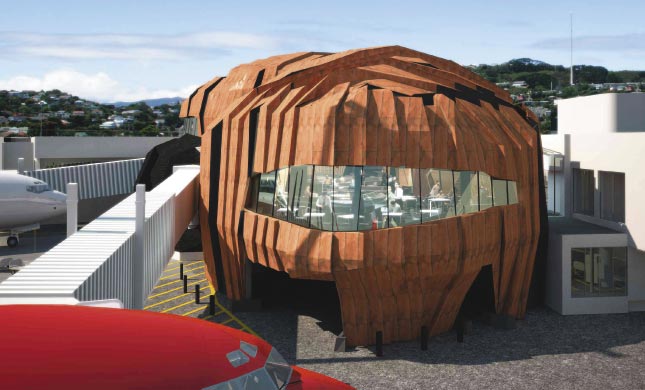 The world's iconic airport buildings are all speed, light and flight, and the pride and joy of thrusting new economies. But despite their vision, expense and years of planning, at the end of the day they all look alike. They're clones.
Nobody will accuse 'The Rock', Wellington Airport's squat new terminal building, of being a clone. "Wellington wants to express itself differently, and this is a gateway building," says one of The Rock's architects, Ralph Roberts of Warren and Mahoney. "If you create a building which is a counterpoint to buildings internationally, then you've created a point of difference immediately."
And anybody who has departed Wellington on a blustery day knows the 'wild about Wellington' slogan is true. "This will be like an anchor," says lead architect Nick Barratt-Boyes of Studio Pacific Architecture. "In other airports around the world, you feel like flight before you get on the plane. Here's one that actually completely turns that idea around."
Part of the strategy is to incorporate Wellington's theatre and film industry into the design of the building. This has been done using glass panels or 'fissures' to create gaps in the floor and ceiling where curious passengers can observe other passengers arriving and departing.
"The theatrical aspect is that people like watching people," says Barratt-Boyes. "There's that nice idea of people in theatre which links into the airport philosophy. They're interested in the [International] Arts Festival and they've used it as a place of theatre anyway, so we're really picking up on that."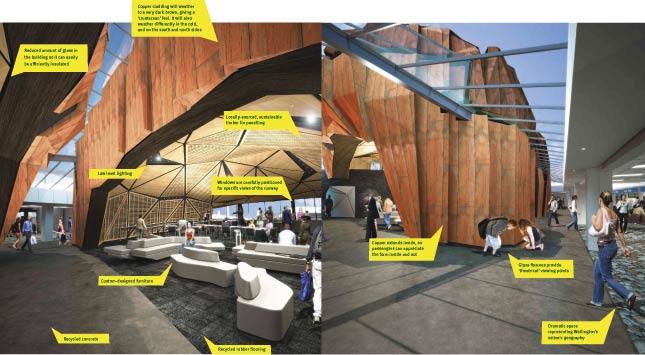 One of the largest tests, apart from the continued use of the terminal while building work is in progress, is keeping to the $39 million budget.
"That's the thing that New Zealanders have had to do over many years, and we've still continued to do well, is to control costing," says Roberts.
The geometry of the terminal is complex, but the plans specifiy classic Kiwi materials—two-by-four timber with recycled concrete and rubber.
The innovative design also had to fit into a difficult space—wedged between the existing terminal and the still-functioning runway.
The design quickly garnered plenty of criticism with comparisons to giant cheese balls, pumpkins and papier mâché but, as with all innovative architecture, criticism comes with the territory—just ask the French.
"Everything will be quite different to your normal conventional airport. Nobody will want to leave the lounge," says Barratt-Boyes.
Stage two of the terminal will be open by the end of 2009.