Mike Hodgkinson has invented a whole new genre of motorbike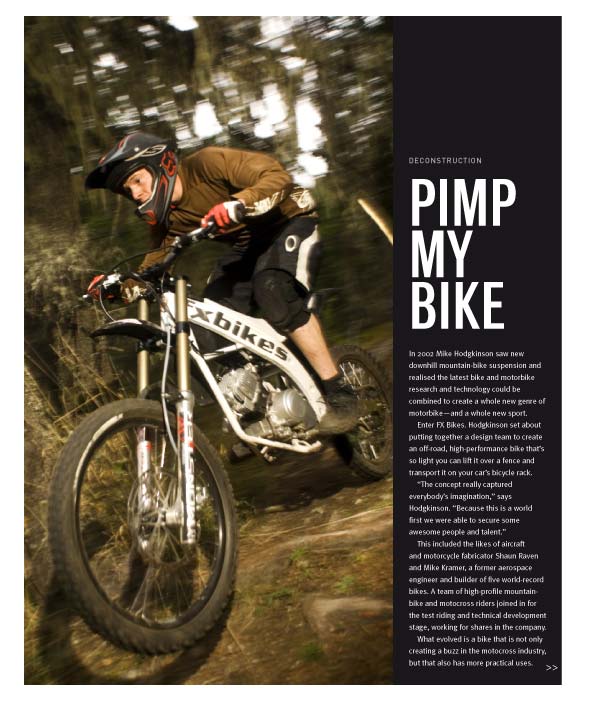 In 2002 Mike Hodgkinson saw new downhill mountain-bike suspension and realised the latest bike and motorbike research and technology could be combined to create a whole new genre of motorbike—and a whole new sport.
Enter FX Bikes. Hodgkinson set about putting together a design team to create an off-road, high-performance bike that's so light you can lift it over a fence and transport it on your car's bicycle rack.
"The concept really captured everybody's imagination," says Hodgkinson. "Because this is a world first we were able to secure some awesome people and talent."
This included the likes of aircraft and motorcycle fabricator Shaun Raven and Mike Kramer, a former aerospace engineer and builder of five world-record bikes. A team of high-profile mountain-bike and motocross riders joined in for the test riding and technical development stage, working for shares in the company.
What evolved is a bike that is not only creating a buzz in the motocross industry, but that also has more practical uses.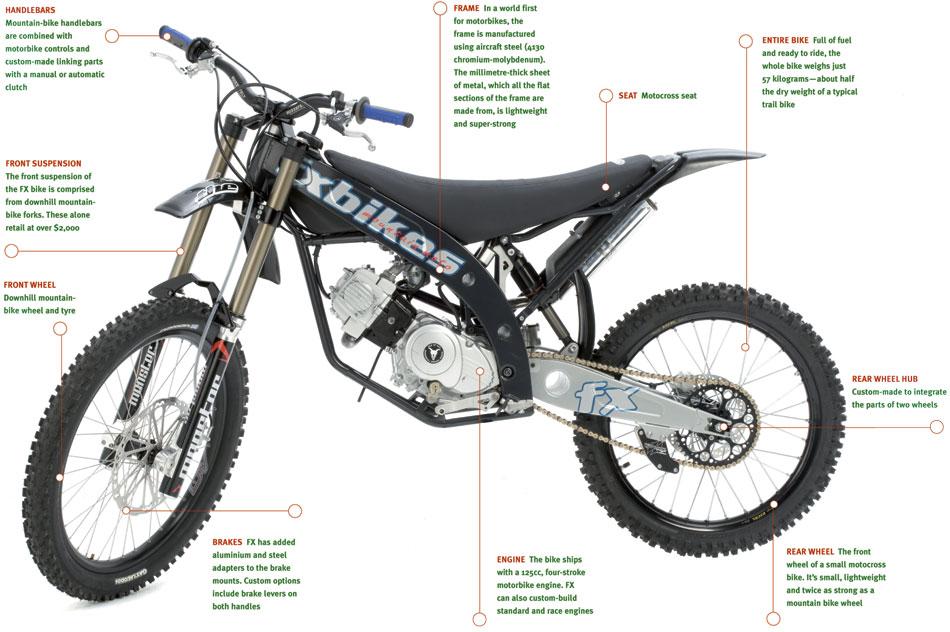 The Army is interested in the bike for use by Special Forces and reconnaissance teams, and the New Zealand Police are evaluating it as a search and rescue tool. Hodgkinson reckons the bike could be a major hit in extreme sports and discussions are underway with Red Bull USA to create an entirely new sports event with FX bikes.
In the meantime, FX is taking its bikes to US trade shows and motorcycle events and showing them to top riders. "We're focusing on the US from the grass-roots," says Hodgkinson. The firm recently scored a coup when Michael Hillman, a former vice-president of Harley Davidson, joined as chairman and head of the US marketing division.
It's all go, then. "Now we're talking about manufacturing hundreds of bikes, the challenge is seeking capital in New Zealand," says Hodgkinson. The bikes will be built in China and marketing will probably be based in the US, but Hodgkinson stresses the desire to keep the design and development in New Zealand. "That's what we're really good at."