Jo Muir gives a new life to vintage fabric—and a new value. Forget cast-offs, hand-me-downs and the fashions of yesteryear, Kiwi 're-designers' are turning forgotten gems into something new and desirable. Lauren Bartlett meets the Kiwis creating born-again-ware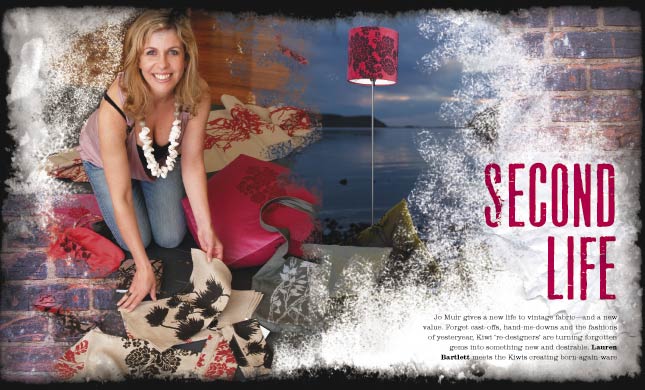 "Moshi moshi, Nic-desu." Nicola McKenzie is sitting among a huge pile of old kimonos in her Hiroshima apartment when Idealog calls. She's not a Japanese hoarder, but a New Zealander engaged in the business of what we label re-design: creating new designer products from old cast-offs.
When McKenzie moved to Japan in 2003, she was horrified at the amount of packaging that was being thrown away. "There is a lot of recycling in Japan, but that's because of need. It is just ridiculous. When I go to the supermarket, I have to peel off layers and layers of plastic before I get to the banana. Just living here makes you really aware of wastage, and wanting to do more."
So when the former knitwear designer discovered that old kimonos—sometimes centuries old—were also on the scrap heap, she put her design skills to work and created a bag line called Bikkuri Squirrel, now sold in New Zealand boutiques.
"There are amazing fabrics here—obi and kimono just going to waste. Japanese aren't particularly into second-hand kimonos and the fabric needs to be hand dry-cleaned, which is extraordinarily expensive, so they end up throwing all this gorgeous fabric out."
Carl van Wijk and Wayne Benjamin are a pair of Kiwi expats in Japan utilising this mountain of super-kawaii [cute] rubbish. The ad-industry pair also design bags—as well as murals, diaries, text book covers and pens—made from '100 percent used' trash. You may have spotted their line of 'Tokyo Trash' bags at the Rachel Hunter 'Lola' show, or at Idealog's AUT Innovation Series events.
"The thing that strikes me about Japan is it's a very closed country," says van Wijk. "A lot of people have no idea about it at all. Animation is a huge part of society, and it's seen on a lot of packaging here. Tokyo Trash is a nice opportunity for New Zealanders to see the 'real' Japan, in an eco-friendly way.
"For me it's nice to be able to market something to New Zealand that is recycled. The whole green thing is really strong right now."
McKenzie and the Tokyo Trash boys aren't the only Kiwi designers who see the value in creating old-to-new designer pieces. AUT University fashion design student Kareen Hillenaar received praise for her line, shown during Fashion Week 2007 in the Rookie show. Her clothes are made from op shop suits stitched together with old military wear. Hillenaar spent the previous summer in India working with fair-trade businesses, and wanted to create a line that avoided the need for sweatshops, bulk production and waste.
"I'm utilising what would conventionally be seen as waste," she says. "So by reusing it I'm not only saving through labour; there's also less organic impact."
Re-designed products are not just making do with offcuts. Designers are creating unique one-off designs that are transformed into high-quality, long-lasting consumer goods.
Sustainable design and re-design are on the radar for designers, but consumers aren't at the point where they are prepared to buy only ethically-designed products, says AUT sustainable design lecturer Andrew Withell.
"In five years' time things will be completely different. We'll be seeing a lot more legislative changes, similar to what Europe is experiencing now. We'll also be seeing more of the effects of global warming. It will be a number-one issue, and will filter through design and change consumer behaviour."
Bronwen Burtenshaw is one of those retailers on a crusade to change the shopping habits of New Zealanders now, starting in the tidy suburb of Herne Bay. She recently opened Forrest on Jervois Road, a store selling only ethical and sustainable design products. It's no Trade Aid, though—her line ranges from hand-made Swedish children's toys to New Zealand products from designers such as Chris Metcalfe.
I wanted to shop somewhere I could feel good about myself, about buying products that were good to people and good to the environment—and then I realised there is a huge gap in that market … quality ethical products with minimal waste
"Basically I wanted to shop somewhere I could feel good about myself, about buying products that were good to the people in the supply chain and good to the environment—and then I realised there is a huge gap in that market," says Burtenshaw. "I was never hugely into design until I met people like Stu Barr, and that's when I realised what sustainability means. Quality ethical products with minimal waste."
A recent report by Research New Zealand and Clemenger BBDO found that while 83 percent of New Zealanders believe sustainability is important and 49 percent think the issue is urgent, only just 37 percent believe ordinary New Zealanders can directly influence New Zealand's sustainability.
Withell reckons designers have a responsibility to come up with ethical products. "I think you have an ethical responsibility if you create something, it should have positive social and environmental outcomes."
Christchurch re-designer Jo Muir agrees. She produces designer homeware (though she prefers to label it 'fashion for the home'—"homewares sounds very Briscoes"). Her range is made from vintage fabric and natural hemp, screenprinted with trendy designs.
"It's not about having masses of stock. It's very hands-on and organic. I'm always evolving, introducing new ideas. It's not about producing one line on a conveyor belt for years."
While re-designing products is labour-intensive, one of the advantages of reusing materials is that the design process is completely different from creating new products, as designers must work within the framework of the available materials.
"Sustainable design, and the re-design of products, opens up areas of creativity that can take you to absolutely amazing places you never would have thought of otherwise," says Withell. McKenzie agrees: "The design aspect is always changing because no two pieces of fabric are the same, so you're limited in what you can do, and sometimes have to think outside the box. It just takes a bit of creativity."