All Black Keven Mealamu has supported his mum through her struggle with diabetes by giving her lots of cuddles and checking up on what she should be eating.
Tise Mealamu got a wake-up call about her health on Queen's Birthday weekend this year when she was admitted to hospital.
She decided to start a healthy eating plan to get her health back on track and has lost more than 15kg since June.
"It's been great to see her progress," says nurse Judith Dee.
"Since June, she's got her blood sugar from 10 per cent down to a more normal 6.6 per cent and she's managing her diabetes well,"
Mrs Mealamu is grateful to her family for their support, especially Keven and her five grandchildren.
"Keven's just like you see him on TV," she said "He's very quiet and unassuming, but he's helped out with a lot of cuddles and encouragement."
Ms Dee says Mrs Mealamu is an inspiration to 12,000 others in Counties Manukau struggling with type 2 diabetes, strongly related to obesity.
The Counties Manukau District Health Board estimate 12,000 more people could still be undiagnosed.
The health board is promoting a "Let's Beat Diabetes" initiative, a five-year plan aimed at reducing type 2 diabetes in Manukau.
The initiative coincides with Diabetes Awareness Week from tomorrow to Monday, which will highlight programmes raising awareness about the epidemic.
Both organisations are promoting healthy eating, exercise and regular health check-ups.
Mrs Mealamu has inspired her colleagues at a Mangere kindergarten to get on board and lose weight. "The bikkies have been canned and we have fruit for morning tea," said workmate Jeannie Hansell-Hunt, who has lost weight too.
"Tise has been a real inspiration and we can see it in her work. She can really keep up with the kids, and she's got loads more energy."
Diabetes cannot be cured, but it can be managed and type 2 diabetes is preventable.
Diabetes symptoms are lethargy, excessive thirst, recurring infections and blurred vision.
Of 125,000 New Zealand sufferers, 115,000 have type 2 diabetes.
Sidebar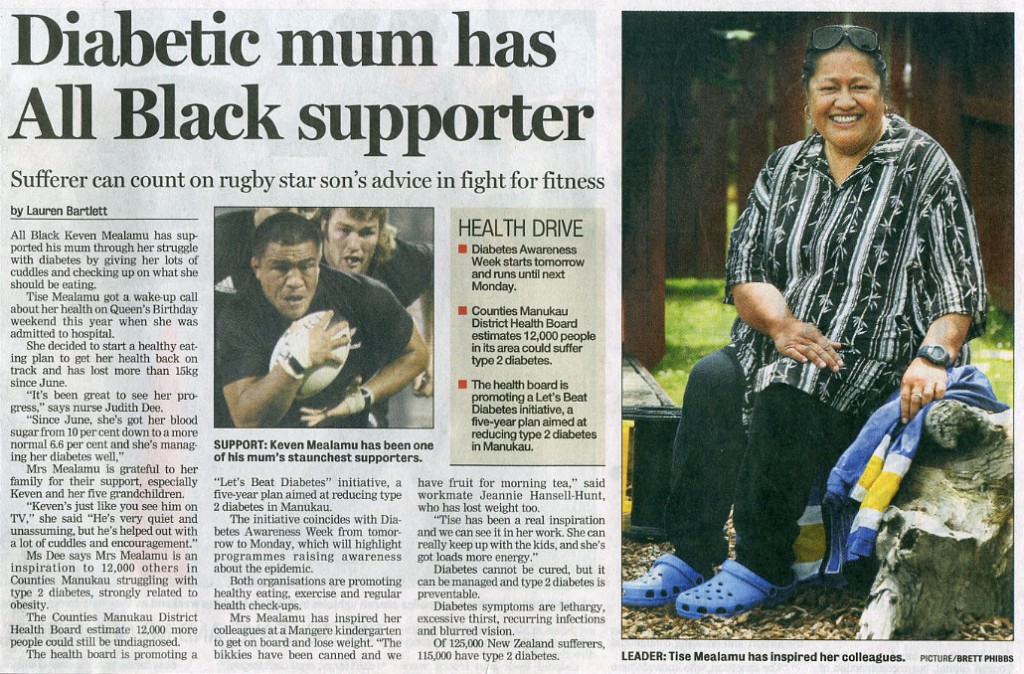 Health drive
Diabetes Awareness Week starts tomorrow and runs until next Monday.
Counties Manukau District Health Board estimates 12,000 people in its area could suffer type 2 diabetes.
The health board is promoting a Let's Beat Diabetes initiative, a five-year plan aimed at reducing type 2 diabetes in Manukau.