More than 42 years ago weightlifter Precious McKenzie fled South Africa when the apartheid republic refused to let him compete for his country.
He went on to become a legend in the sport, representing first Britain and then New Zealand and winning four Commonwealth gold medals.
Next week he travels back to his native country to be recognised for his achievements.
"It's a dream come true," McKenzie said yesterday. "Finally, I have got recognition from my own people."
McKenzie will be formally inducted into the South African Sports Hall of Fame on December 5.
He emigrated to England in 1964, after being refused a place in South Africa's 1960 Rome Olympics team on the basis of his colour, even though he was the best weightlifter in the country.
"I decided I had to leave South Africa because there was no hope for me," he said.
The 70-year-old competed in several weightlifting events last year, but will miss the World Championships this year because he will be in Pretoria receiving the award.
"It's a good excuse to finally quit," he said.
The 1.5m lifter still holds the title as the World Masters powerlifting champion for his age and weight, and is in the Guinness Book of Records as the first man to lift a total of 11 times his bodyweight in three disciplines.
His remarkable life story has captured the attention of a British film production company, which is planning a movie of his life.
The weightlifter had a traumatic childhood. At the age of 3 he was admitted to hospital with a chest condition pronounced incurable, prompting his mother to baptise him "Precious One".
The same year his father Joseph was killed by a crocodile in the Limpopo River.
He was moved to a foster home where he was badly treated and malnourished, which he says caused his small stature.
The makers of the film are still searching for a star to play McKenzie, but one name being mentioned is Cuba Gooding Jnr.
McKenzie moved to New Zealand 31 years ago and won his last Commonwealth gold medal wearing the black singlet in Edmonton, Canada, in 1978. He was awarded an MBE in 1974.
His passion for weightlifting is undiminished. He works in Auckland as a workplace consultant on safe lifting and is a major supporter of his 23-year-old grandson, Taurean, who achieved the best bench press in the junior section of the 2004 Nevada World Power Lifting Championships.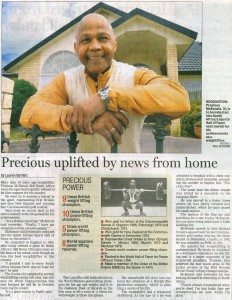 McKenzie said yesterday he was looking forward to returning to South Africa.
"You're always remembered when you're dead. I'm just lucky they are remembering me now, while I'm alive."