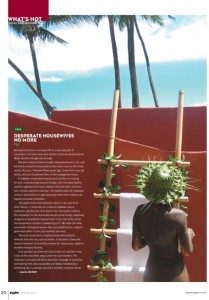 Arriving home from a nursing shift to a daunting pile of housework, full-time nurse and mother of two young boys Annie Wade decided enough was enough.
She and husband Robert bought Hideaway Resort in Fiji, and the family moved from Australia to the Coral Coast on Fiji's main island, Viti Levu. That was fifteen years ago. Today their sons are adults, and one has joined them on the management team.
The Wades understand exactly what families are hoping for from a rejuvenating tropical holiday. Over the years they've steadily upgraded the resort, added a full-time kids' club and, just recently, opened a new spa—the perfect place for harassed mothers (and fathers) to get pampered while their children are happily occupied elsewhere.
The jewel of the new treatment centre is the Lava Rock Solar Sauna—a local take on a natural Hawaiian sauna treatment, and the first of its kind in Fiji. The nautilus shell is the inspiration for the terracotta sauna's spiral shape, especially designed to amplify the tropical heat. In the core of the spiral, the temperature reaches a sweltering 40°C. We enter the helix armed with nothing but woven hats and paintbrushes, ready to glaze each other in noni juice-scented sea mud.
The mud comes from a nearby estuary and contains minerals from the sea, such as iodine. It has been a favourite beauty treatment of local Fijian women for many years, explains resident therapist Alumita.
Once painted, we allow the mud to bake on and then rinse it and all the impurities away under the cool showers. The treatment is finished off with a luxurious massage in a pavilion overlooking Fiji's most accessible surf break, followed by a refreshing dip in a private spa and a romantic candlelit dinner.