Vomo Island Resort is under new management. We put them to the test—sending our intrepid reporter Lauren Bartlett to stay at this luxury resort during the wet season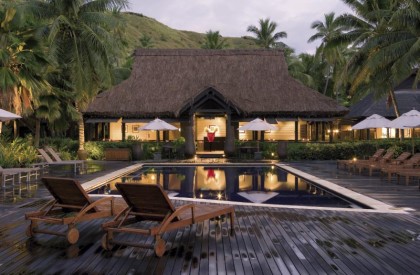 The helicopter sways as we hover over the dark lagoon waters on the northern edge of Viti Levu. An intense turquoise strip marks where the shallows meet the deep and then changes indigo as we near Vomo—a lush, boomerang-shaped island flung some 30 kilometres from the mainland, between the Mamanuca and Yasawa groups.
We've arrived in Fiji during the tail end of the wet season and the chopper dips dramatically as we round Vomo's highest peak. Then we plunge, hearts in mouths, down towards the glistening vegetation. Our landing at Vomo Airport—a clearing in the tropical forest that reminds me of island scenes from Jurassic Park—is surprisingly gentle. It's been raining and the warm, brooding, forest looks just the sort of place to encounter something interesting from our prehistoric past. Instead we're met by a gaggle of smiling, umbrella-wielding staff to take us by van to the island's lone, luxurious, 29-bungalow resort. I've been told Vomo is under new management and I'm anticipating three days of pure indulgence.
Within five minutes we arrive at the resort and are greeted by more jovial staff members, this time bearing cocktails in coconuts. The damp air is heavily scented as we are escorted along the hibiscus-lined path to our one-bedroom, thatched bungalow. The villa is framed by bougainvillea and is perched on a smoothly manicured lawn that slopes down to the chalky beach, facing the Yasawas.
Inside, a chilled bottle of Palliser Estate Riesling and a batch of freshly baked chocolate chip biscuits rest on the low, carved table. Vomo has a long-established reputation for five-star luxury, but the new management team is determined to advance the food and beverage service to the highest level. Management company owner, James McCann is planning to add more dining options over the next few months including a renovated open-air bar on the Mamanuca side of the island. "Fiji hasn't really been known as a 'food destination'," says James. "We're hoping to change all that."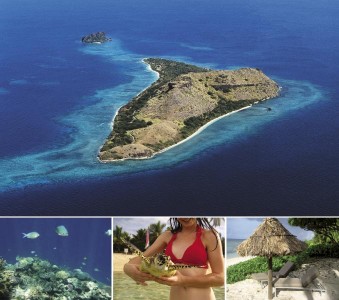 To ensure Vomo lives up to its growing reputation, James recently hired award-winning chef, Shane Avant. To achieve the good food and service you need a top team of staff, says James. A runner up in the prestigious French Chaine des Routisseurs competition, Avant's focus is on fresh food and local produce. "A lot of resorts are still doing burgers, we're not about that, it's about fine dining," he says.
This isn't to say the food is pretentious. Culinary triumphs include chilli-fried squid on fresh coconut, with dressed spring onion, mint and coriander salad, or yellow fin tuna seared with parmesan gnocchi, roasted cherry tomatoes and salsa verde. An even better treat: the ice cream. "Guests always ask where they can get it," says James. The answer is only at Vomo—the chef makes it from scratch using fresh fruit.
Between relaxing and eating, I don't have an opportunity to visit the Vomo turtle-breeding enclosure until the last day of my stay. Every two years, the turtles emerge from the turquoise depths and lay their eggs on the warm shore. Once the turtle-babies hatch, they are pretty much on their own. To protect the endangered species from natural predators such as seabirds, Wise, Vomo's resident turtle expert, fences off their nests.
By the end of the season Vomo can be left with over 100 baby turtles. In previous years Vomo has donated some to resorts in the surrounding islands, but it still has about 30 babies left, who are now turtle-toddlers, eighteen-months-old and nearly ready to learn about the sea.
In the meantime, the turtles reside in a small concrete tank, which is drained and scrubbed everyday. As Wise examines each turtle for scratches and bites and carefully applies antiseptic to any wounds, he tells us about his preservation plan, set up several years ago with help from the University of the South Pacific.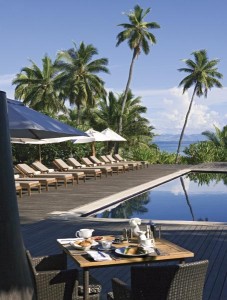 Once all the turtles are looked over, Wise lets us choose one to take for a swimming lesson. This is something normally reserved for kids, but I'm still slightly apprehensive as the turtle snaps at my fingers, wriggling its slimy underbelly along my palm. We ask Wise if it's a male or a female. "That's really the question," he smiles. "If it's a female, we'll find out in 25 years when she returns to breed."
At the beach, we place our turtle on the soft white sand and let it do its thing. It's slow on the shore, but once this amazing creature hits the sea, the transformation is incredible. It fins gracefully through the water, too fast to keep up with. We splash around for a bit, but then it's back to captivity—for now. Wise nimbly scoops it up and takes it back to the tank. During the school holidays, one of the kids will set it free for real.
Vomo isn't really set up for loads of kids, but children are welcomed—one of the few five star resorts that let youngsters stay all year round. One night we had a drink with the Potters, an American couple that specifically chose Vomo for their eleven-year-old son.
"Jeremy is too old to be bundled into a kids club, and we really wanted to spend some quality time together anyway," says Liz. Their son had spent the trip snorkelling and learning about ecology with the resort staff, in between poolside chess-games with his dad. Because the island only houses several guests at a time, the resort has never had huge concerns about a gaggle of kids overcrowding the pool, says James.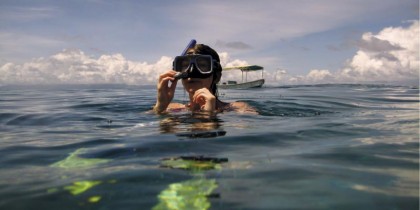 Vomo is breathtaking, yet ecology hasn't always been valued. Years ago, all refuse on the island was buried, and it's since had to be dug up and transported back to the mainland. The island now has its own fresh water supply—thanks to a desalination plant.
When it's time to depart, the tumultuous weather that greeted us on arrival has subsided, but instead of leaving via Vomo Airport, we stroll down to the shore where a De Havilland Beaver seaplane waits for us. The sun wraps around the peak of Vomo as we fly past. From the air, the rugged landscape still appears primeval, but we now know Vomo Island Resort is very much more paradise than prehistoric.